Eulogy vs tribute: key differences
What's the difference between a eulogy, an elegy and a tribute?
Eulogy vs tribute: the key differences explained
By: Susan Dugdale | Last modified: 08-21-2021

The words eulogy and tribute are often used interchangeably, as if they mean the exact same thing. But unfortunately, they don't.
It becomes even more complicated when a third word, elegy, is added to the mix.
Yes, there are similarities: enough to cause understandable confusion. However there are major differences between them.
What is a eulogy?
A eulogy is usually either a formal speech, or a written piece, celebrating the life of a person who has recently died.  Less commonly, a  eulogy can also mark the death of a much loved pet, and the form is sometimes used to comment on the passing of a time and significant changes in society.
The word is derived from Late Latin (eulogia), and Medieval Latin (eulogium).
Click the link to read two eulogy examples on this site. And click this link to browse a collection of 50+ sample eulogies written by people from all over the world.  
For a dictionary definition, including sample sentences, please visit: lexico.com/definition/eulogy


PS. A eulogy is not an elegy
Eulogy or elegy? Which one fits your subject? The words are very similar and because of that, frequently muddled.
Are you talking about a sad poem or a funeral speech?
An elegy is a lament, a poem of mourning and grief, written in remembrance of someone who has died, or of something that has past.
One of most commonly known is forever etched in my mind: An Elegy Written in a Country Churchyard by Thomas Gray. My high school English teacher loved it and passed that love on. I can still hear his voice reciting: 
"The curfew tolls the knell of parting day,
The lowing herd wind slowly o'er the lea,
The plowman homeward plods his weary way,
And leaves the world to darkness and to me."  
For more elegy examples see: From Catullus to Dylan Thomas: the top 10 elegies - an article appearing in the Guardian UK by Ruth Padel, prize-winning poet and Professor of Poetry at King's College London.
For a dictionary definition, including sample sentences that use the word, please visit: lexico.com/definition/elegy

---
What is a tribute?
In contrast to eulogy and elegy, tribute has a much broader meaning. While, like eulogy, the word includes either giving a speech, or writing a piece to honor a person's life, tribute can also be applied to:
singing a song to show your respect or admiration
giving a special gift:  a painting, a piece of jewelry, a sculpture …, to show appreciation for either a person's, or an organization's, service
an event: a concert, a dinner, a show put on in honor of a person, a group of people, or an organization
making a donation to a cause at the request of the deceased. For example, 'In lieu of flowers, please make a donation to Doctors Without Borders.'
an action, something done in tribute, for example: taking the knee, a march past by soldiers to honor those who did not come home, the laying of flowers, or wearing a red remembrance poppy.*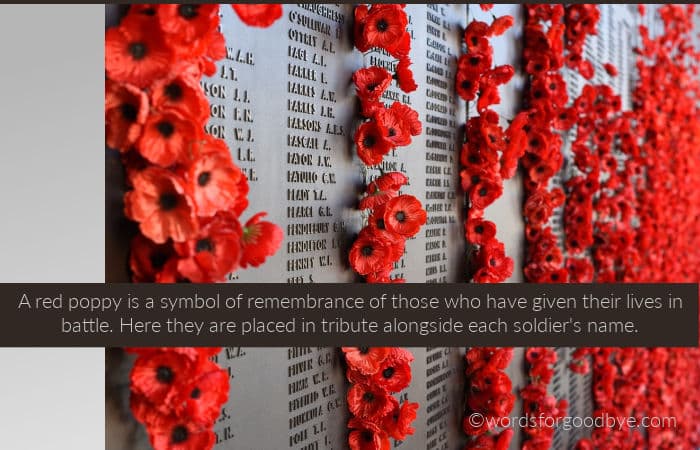 *In the United Kingdom, Australia and New Zealand a red poppy is used as a symbol of remembrance for all who have lost their lives in wars in service of their countries. They were chosen because they grew among the soldier's graves on  battlefields in Belgium after World War One ended. The famous poem, In Flanders Fields, written by Canadian Lieutenant-Colonel, John McCrae, a surgeon, in 1915 describes the scene.
(Find out more about the history of the red remembrance poppy.)
Additionally individual artists or groups who impersonate famous singers or bands are known as tribute acts. For example, the real Elvis Presley may have died long ago. However, here's 21 more! Shake it up, baby, and check this out: legendsinconcert.com: Elvis Presley! You'll also find multiple Aretha Franklins, several versions of Marilyn Munroe, The Four Tops …
And lastly there are tribute payments of varying kinds, for instance: money paid by one country to another in return for protection from invasion, forced payments or bribe monies 'given' to a gang or similar group, taxes imposed by governing authorities... 
For a dictionary definition, including sample sentences showing its varying usages, please visit: lexico.com/definition/tribute
Eulogy vs tribute:  the key differences